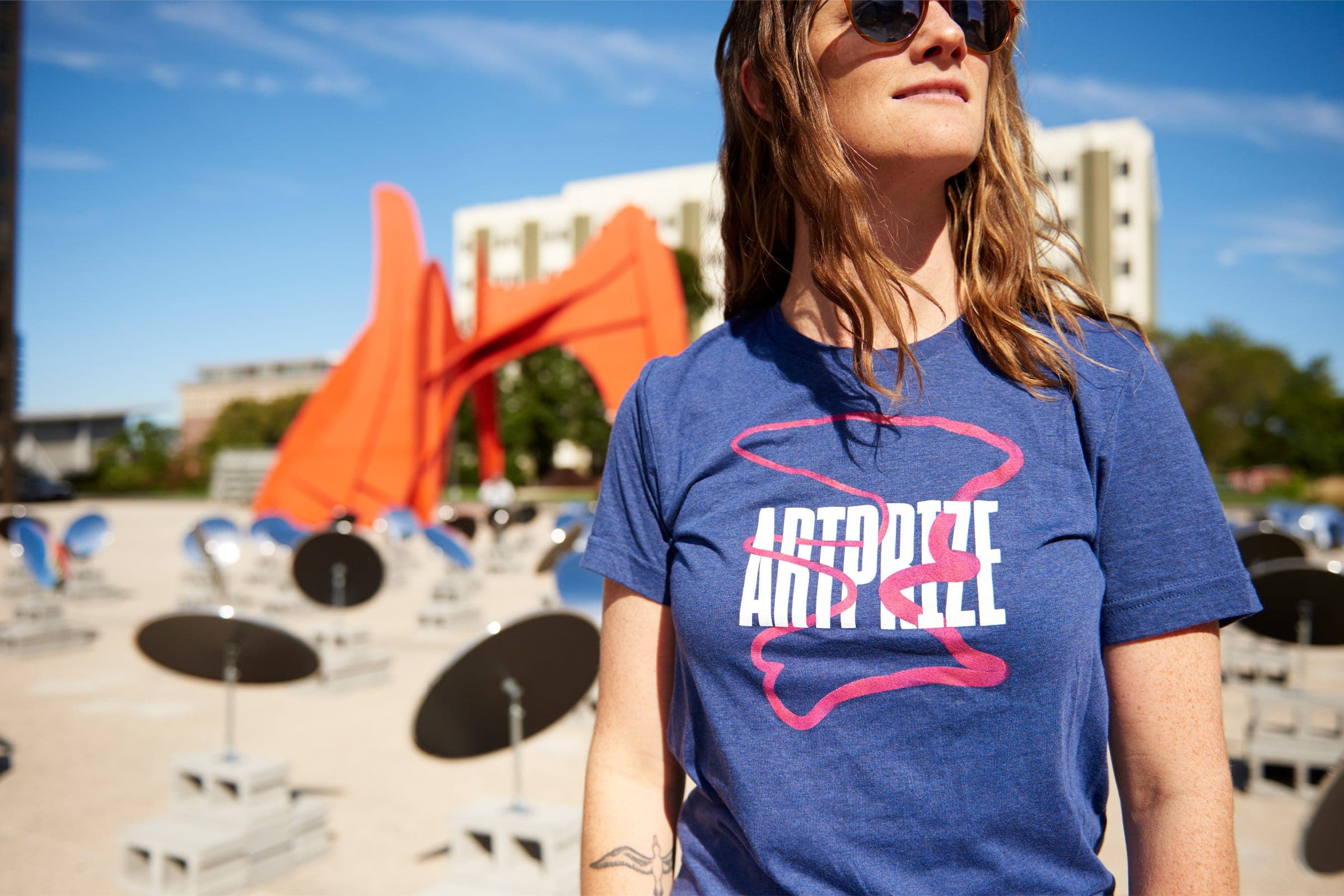 Attend / Visitor Information
Plan your visit
ArtPrize ClubHouse
The ArtPrize ClubHouse is a central gathering place for visitors and Artists. Inside, find friendly customer support, merchandise, and credentials at The Concierge. View the curated industrial-design showcase of The Haworth Design Gallery @ ArtPrize. Participants can enjoy the amenities of the Artist Lounge, while downstairs in The Theatre, presentations and panel discussions will explore trends in the world of art and design.
The ClubHouse is also home to the Education & Volunteer Hub. And the fourth and fifth floors feature Club Seen, a gallery and flex space featuring a series of performances, events and activations alongside stunning ArtPrize-curated Artist entries.
The Concierge is a great place to begin your ArtPrize 2023 experience.
Families and teachers can find education resources here.
Artists can relax, fuel up, and network at the Artist Lounge.
Learn More
ArtPrize Oasis
Designed by TBG Partners and presented by Corewell Health and Priority Health, the ArtPrize Oasis is a temporary but transformative urban expanse along the Grand River offering guests a place to regroup and recharge. It re-envisions our urban environment, organizing the flow of people and space by the same principles as the river, and provides visitors three distinct functional areas for those seeking fun, respite, or connection. The Artist Lounge is a welcoming enclave where participants recharge and network. The Studio serves as a flex space for both private events and public activities. And the Public Activation Area features games, relaxing seating, and art installations presented by DGRI, Frederik Meijer Gardens & Sculpture Park and Floor & Decor.
ArtPrize continues its tradition of reinventing the city itself.
The Oasis marks our next evolution in placemaking.
The space also features Artist entries.
ArtPrize Oasis
Getting Around
Getting around ArtPrize and seeing all Grand Rapids has to offer has never been easier. Whether you drive, walk, ride a scooter or e-bike, or take advantage of transit operations, we want to make sure your experience navigating the city is a breeze. 
Parking
There are plenty of parking options throughout the ArtPrize District near participating Venues. Plan your visit using this interactive map of parking lots and ramps. Or park on the street parking via the convenient Motu app.
ArtPrize is meant to be enjoyed on foot over multiple days. You can visit a series of Venues while stopping along the to recharge at parks, restaurants, and the ArtPrize Oasis.
For a curated experience, take advantage of the Pantone Pathways, presented by X-Rite. The Pathways begin and end at the ArtPrize Clubhouse, located at 2 Fulton West on the corner of Fulton Street and Division Avenue.

Looking for a venue map? Find an interactive one on our voting webapp (with venue and entries details) via your mobile phone, You can also view venue listings and Pantone Pathways on our interactive map here, or even print out your own to take with you.

Accessibility 
Our friends at Experience Grand Rapids provide this helpful accessibility information to assist visitors with disabilities in enjoying our great city. Also, all ArtPrize Venues are ADA compliant.

ArtPrize will also have wheelchairs available for loan on a first come, first served basis at both our Activation sites - (ArtPrize ClubHouse & ArtPrize Oasis).
DASH around Using the Free Downtown Area Shuttle
The Downtown Area Shuttle (DASH) offers you an easy and affordable way to get around. DASH buses are free and arrive at stops every 15 minutes, circulating through the ArtPrize District and stopping at or near major venues like the ArtPrize Oasis, Rosa Parks Circle, and more. The DASH runs Wednesdays through Fridays from 7 a.m. to midnight, Saturdays from 11 a.m. to 1 a.m., and Sundays from 11 a.m. to 5 p.m. 
Click here for a map of the DASH route.
Ride The Rapid: Bus Services 
The Silver Line and Laker Line Bus Rapid Transit services run in two loops throughout Downtown Grand Rapids—every 10 minutes during rush hour and every 20–30 minutes midday and evenings. Both serve key ArtPrize Venues. You can also get to ArtPrize via regular bus service. Ride any routes in The Rapid system for $1.75 (with free transfers), and plan your route using ridetherapid.org, Transit App, or the Rapid's myStop app (iOS & Android). 
Lime E-Scooters and E-Bikes
Personal transportation by Lime makes getting around the ArtPrize District fun and easy. Lime e-scooters and e-bikes can operate throughout the ArtPrize District and beyond. Fees are one dollar to unlock plus thirty cents per minute. Just download the Lime app to your phone, set up your session, and pay with a credit or debit card. When you're done, park it in a designated parking zone to avoid further charges.
More to Do in Grand Rapids
While you're in town enjoying ArtPrize, check out everything else the city has to offer. Experience Grand Rapids is a great place to learn more about local dining, hotels, attractions, and more. And discover more great things happening concurrently with ArtPrize via this community events calendar.
Vote
Help decide who takes home part of the $200,000 in prize money by voting for your favorites as you explore all ArtPrize has to offer. Voting begins September 14th.
Vote